Our partners
SYSTEM INTEGRATORS
PWRstation is proud to be working with many of the world's leading system integrators in developing unique solar solutions where traditional solar installations are less effective or simply not an option.

Our unique EXOrac retractable racking technology can serve as a defining ingredient that enables mobile, modular and re-deployable and activation-ready solar energy solutions for commercial end users. Simply contact us to schedule a call.

R&D PARTNERSHIP
Today, PWRstation and its partners are working together to provide pre-packaged hybrid energy solutions that can energize entire communities at breakneck speeds, including refugee camps, while providing them access to pure water, nutrition, health and education.

Our business model supports local communities in their sustainable development, and regional enterprises to create employment.

Customer advantages :​

​• Fully tested in-house
• Remote monitoring
• 15 years life span
• ROI 3 years vs genset
• Relocation of assets, as needed
• Environment free batteries
• Plug & Play
• Fast installation and no maintenance
• Designed for tropical environment
• Leasing options, no upfront investment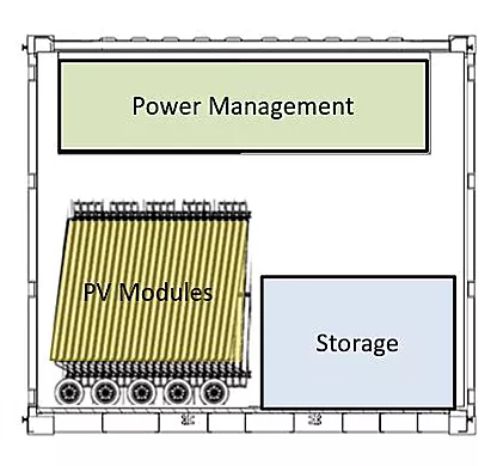 THE PRODUCTS

Example of configuration :

• 10 feet containers
• 25 solar modules
• Single phase 230Vac or 3 phases 400Vac
• Storage included
• Scalable



Hybridization of diesel Gensets
Hybrid energy systems consist of pairing traditional diesel energy sources with renewable energy sources like wind, solar and electricity storage to raise efficiency, deliver an improved balance in energy supply and lower the cost of the electricity produced.
Delivering hybrid microgrids to regions with populations lacking basic electricity is among today's leading alternatives to traditional methods of building large centralized fixed power plants that can take years to implement and connect to the end user.
Unlike other hybrid microgrids, products based on PWRstation proprietary technology EXOrac are delivered preassembled, are transportable and "plug and play," enabling short delivery and activation cycles, and ability to relocate your energy assets as needed.
• Humanitarian and Emergency First Responders
• Rural Electrification
• Industrial mining and construction
• Scientific expeditions
• Large public events, commercial film shoots
...and the 1.5 billion people living in developing nations with limited or no energy infrastructure, which includes off-grid homes, villages and refugee camps
Contact us to submit your project !


EPC/End users
PWRstation collaborates with EPCs and in some cases with end users.
If you have a small or large ground mount or flat roof project, please don't hesitate to contact us for more informations.
PWRstation EXOrac solar arrays can be installed in places where traditional fixed systems cannot, and can feed electricity to any urban / community grid.
For example, there are numerous "empty lots" in commercial, industrial and rural zoning areas that often remain idle for years awaiting development. In such cases, ordinary fixed solar installations, with their 20-25 year returns cannot be economically justified.
Whereas, PWRstation EXOrac, with its advantages of preassembly, activation-readiness and mobility is an ideal fit, as installation can be relocated from lot to lot, as often as required.


URBAN FLAT ROOFS


In developed urban and suburban markets, EXOrac serve as highly effective permanent or temporary flat roof systems with advantages that include simplified rapid activation with no scaffolding requirement.
• "Any time" rooftop access for low cost scheduled maintenance and repair
• No disassembly/re-assembly costs when removing to replace old rooftops
• Transportability in case of a relocation
• Tetractability in case of fire or severe weather.
With its transportability and ease of installation, the PWRstation responds well to energy needs in urban environments, especially for flat roof applications.
Today's typical flat roof solar installation is slated to last between 20 and 25 years, while most flat roof manufacturing warrantees only guarantee a lifespan of 10 to 15 years. Notwithstanding, flat roof tops often require access for basic maintenance. The cost to install and potentially remove and reinstall a typical fixed flat roof solar system in order to replace a roof top is dissuasive to building owners, who often prefer to forego the benefits of solar.
Solar Power World / Re-roofing reality check: Questions solar contractors should ask.
this is an example of ground installation recently realized in Switzerland.
72 solar panels for a total of 20 kWp peak.
Estimated deployment time for 1 Megawatt using 4 people is 20 hours


DISTRIBUTORS
PWRstation is proud to work with regional distributors around the world to ensure customers have easy and rapid access to our pre-assembled EXOrac technology.
Please
contact us
to become an official PWRstation distributor